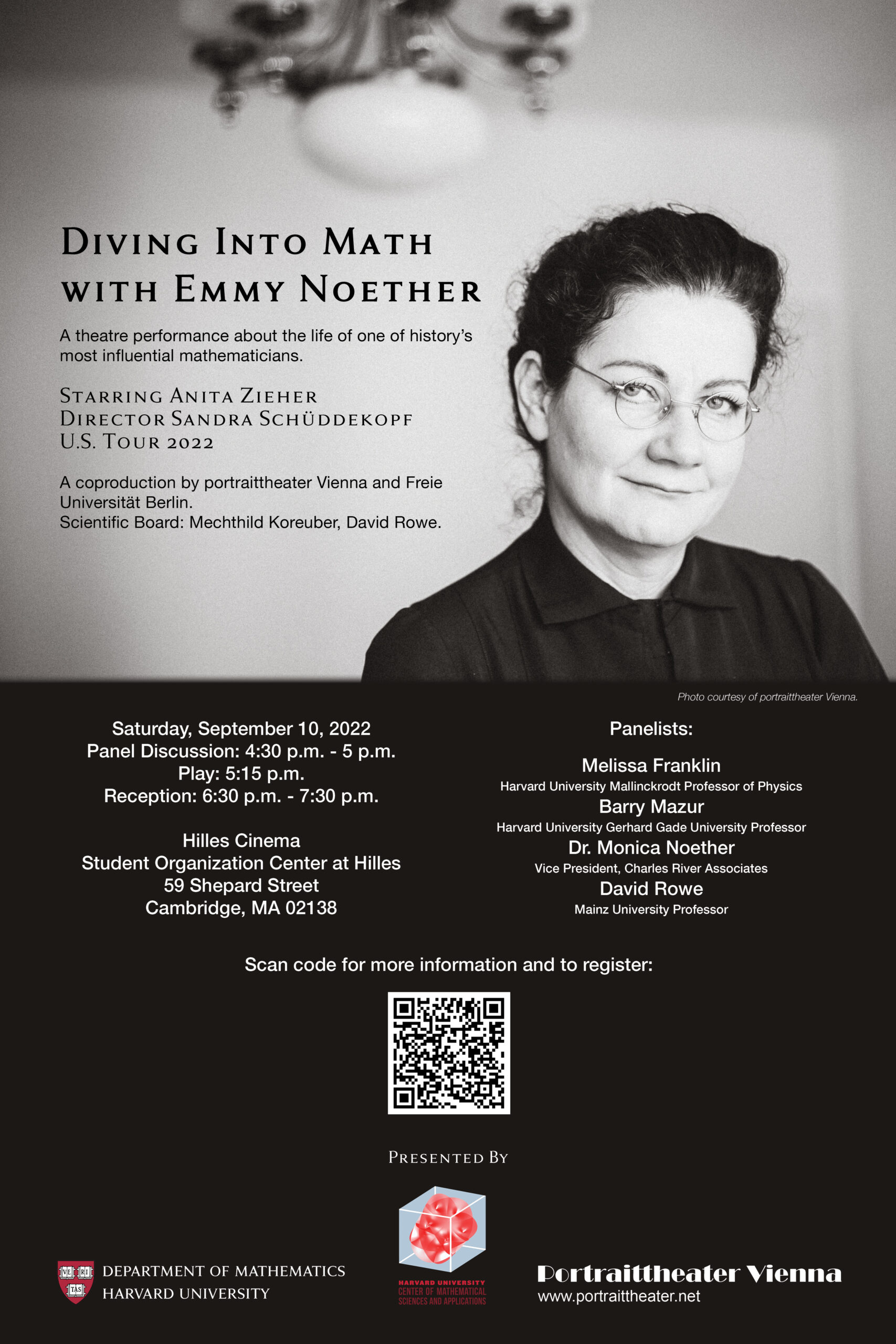 Diving Into Math with Emmy Noether
ANNOUNCEMENTS, OTHER MATHEMATICS DEPARTMENT EVENTS, CMSA EVENTS
Diving Into Math with Emmy Noether
A theatre performance about the life of one of history's most influential mathematicians.
When: Saturday, September 10, 2022
Panel Discussion: 4:30 p.m. - 5 p.m. | Play: 5:15 p.m. | Reception: 6:30 p.m. - 7:30 p.m.
Where: Harvard University Hilles Cinema, Student Organization Center at Hilles (SOCH)
59 Shepard Street, Cambridge, MA 02138
Panelists:
Unfortunately, as of right now venue capacity has been reached. If you'd like to sign up to be waitlisted, please register below and we will inform you by Friday, September 9 if seats become available.
Emmy Noether (1882-1935) was one of the most influential mathematicians of the last century. Her works and teachings left a lasting mark on modern algebra, opening new avenues for a modern structural perspective in mathematics.
The ensemble Portraittheater Vienna (Austria) together with the Frei Universität Berlin (Germany) produced a biographical play about Emmy Noether, directed by Sandra Schüddekopf and starring Anita Zieher as Emmy. In September 2022, "Diving into Math with Emmy Noether" will tour the USA for the first time and play at several universities and colleges. The Harvard Department of Mathematics and the Center of Mathematical Sciences and Applications (CMSA) are proud to bring this performance to Harvard University.
Based on historical documents and other sources, the script was written by Sandra Schüddekopf and Anita Zieher in cooperation with the historians Mechthild Koreuber and David E. Rowe. On stage and in videos, Emmy Noether's fascinating personality comes alive in her reflections and conversations with other leading mathematicians of her day. The original play in German has been performed with great success at several universities in Germany and in the Theater Drachengasse in Vienna.
A coproduction by portraittheater Vienna and Freie Universität Berlin. Scientific Board: Mechthild Koreuber, David Rowe.
View the "Diving into Math with Emmy Noether" trailer.