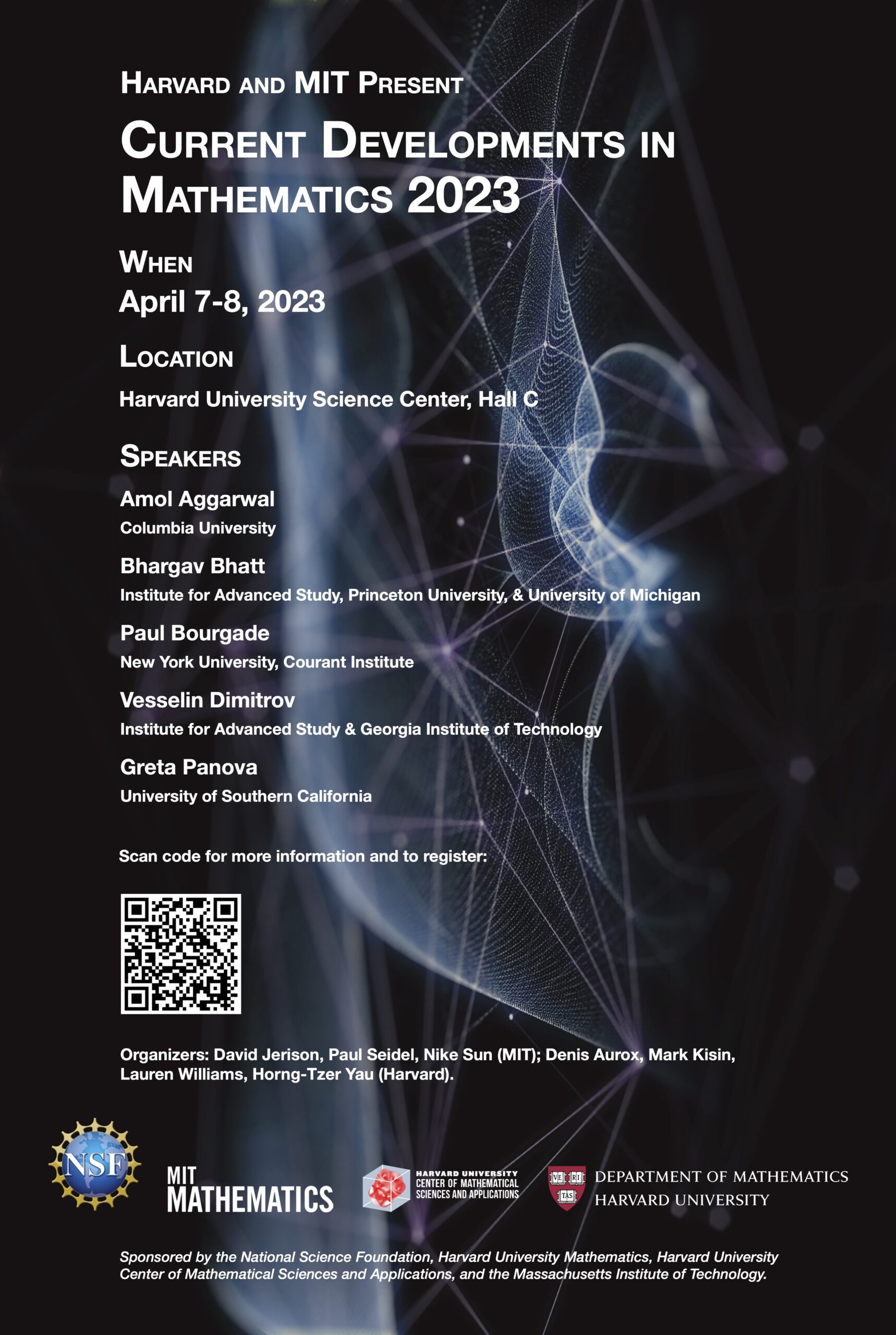 Current Developments in Mathematics 2023
ANNOUNCEMENTS, CONFERENCES
View Calendar
April 7, 2023 - April 8, 2023
Science Center Hall C
Address:
1 Oxford Street, Cambridge, MA 02138 USA
Current Developments in Mathematics 2023
April 7-8, 2023
Harvard University Science Center
Lecture Hall C
Speakers:
Amol Aggarwal - Columbia University (Columbia)
Bhargav Bhatt - Institute for Advanced Study, Princeton University, & University of Michigan (IAS/Princeton/UMichigan)
Paul Bourgade - New York University, Courant Institute (NYU Courant)
Vesselin Dimitrov - Institute for Advanced Study & Georgia Institute of Technology (IAS/Georgia Tech)
Greta Panova - University of Southern California (USC)
Organizers: David Jerison, Paul Seidel, Nike Sun (MIT); Denis Auroux, Mark Kisin, Lauren Williams, Horng-Tzer Yau
Sponsored by the National Science Foundation, Harvard University Mathematics, Harvard University Center of Mathematical Sciences and Applications, and the Massachusetts Institute of Technology.
Harvard University is committed to maintaining a safe and healthy educational and work environment in which no member of the University community is, on the basis of sex, sexual orientation, or gender identity, excluded from participation in, denied the benefits of, or subjected to discrimination in any University program or activity. More information can be found here.