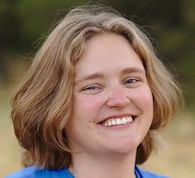 Melanie Matchett Wood wins $1M NSF Waterman Award
Professor Melanie Matchett Wood has received the National Science Foundation's annual Alan T. Waterman award, which recognizes an outstanding early-career U.S. science or engineering researcher who demonstrates exceptional individual achievements in research in NSF-supported fields. Wood is the first woman to receive the Waterman Award in mathematics. She is one of two Waterman recipients this year, along with Nicholas Carnes, a social scientist and scholar of public policy at Duke University.
Wood's field is number theory, but she also incorporates work from other areas of mathematics including arithmetic and algebraic geometry, topology, probability, and random groups in her research. "My work has shown that by combining perspectives from probability, geometry and topology, we can understand things about how factorization works across different number systems and how number systems can be enlarged by adding in new numbers," Wood said. "Research into foundational questions in mathematics is important because it tells us about our world and about new technologies it may lead to in the future."
NSF Waterman awardees each receive $1 million over five years for research in their chosen field of science.