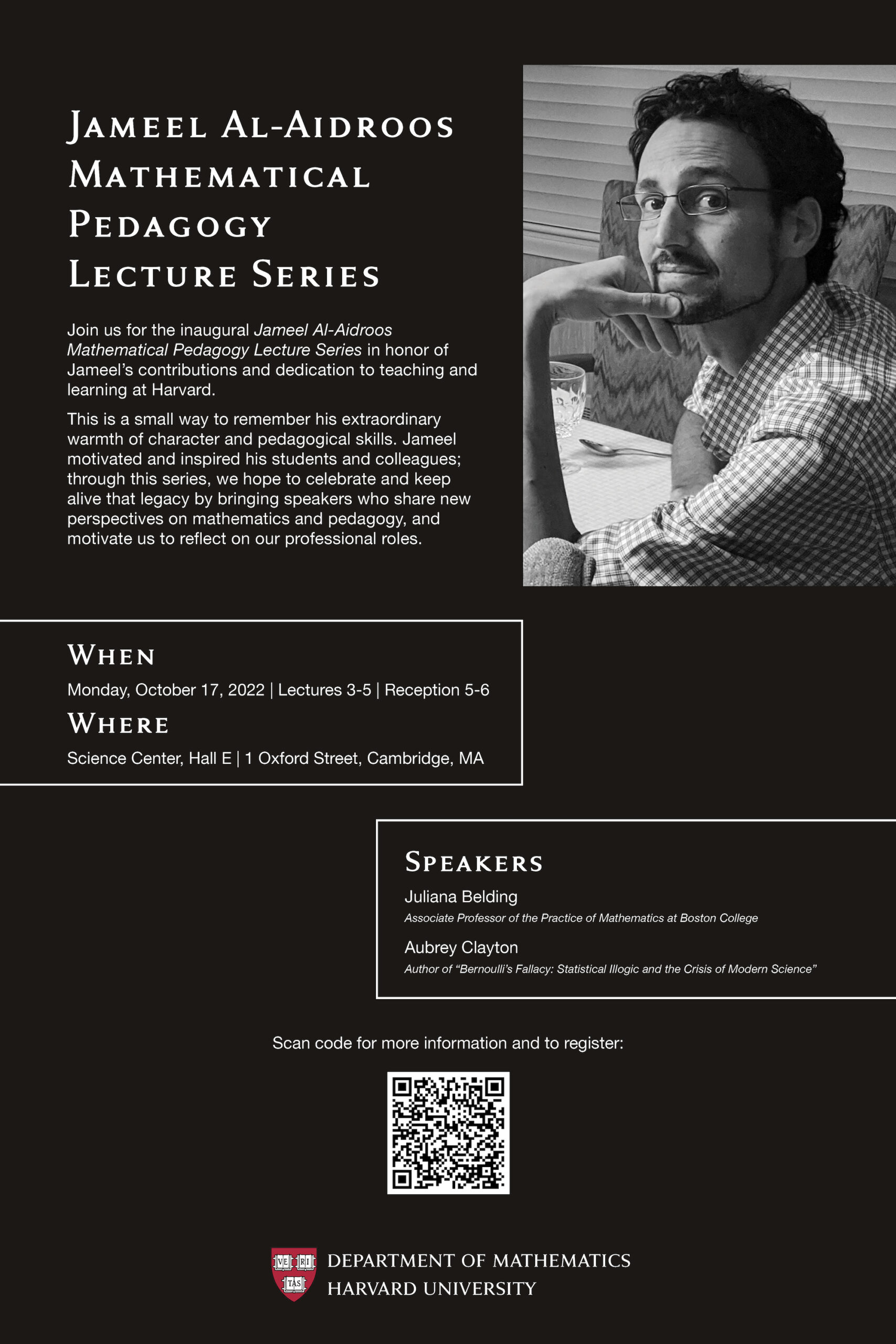 Jameel Al-Aidroos Mathematical Pedagogy Lecture Series
ANNOUNCEMENTS, OTHER MATHEMATICS DEPARTMENT EVENTS
View Calendar
October 17, 2022 3:00 pm - 6:00 pm
Science Center Hall E
Address:
1 Oxford Street, Cambridge, MA 02138 USA
Jameel Al-Aidroos was a treasured colleague and a master of a myriad of things. He could simplify a mathematical idea and present a question or comment in a way that could bring his students to view concepts from new perspectives. Likewise, when he worked with graduate students around pedagogy and with school teachers around the joys of engaging with mathematics, the thoughtful way he approached teaching and mentorship made a big difference. Watching Jameel teach motivated and inspired both novice and veteran teachers to become better instructors and to bring their best selves forward. His superpower as a teacher was asking just the right questions to focus students' attention on the core of the mathematical idea.
Through a number of seminars and workshops, Jameel shared his question-asking approach and pedagogical skills with graduate students and faculty. An astute and careful listener, a masterful communicator, and a deep thinker, he forged impactful connections. As a mentor and colleague, Jameel was without equal: he applied himself wholeheartedly to hone his craft in the classroom and as a mentor. He was quick to volunteer to do whatever was needed to promote team projects and through this, we discovered his enormous talents as an interviewer, film editor, and voice-over artist, among other things. It seemed there were no tasks he did not choose to rise to and polish, while consistently taking a step out of the limelight to let his students and colleagues shine.
The grace and generosity of spirit he extended to his students and colleagues are an indelible part of his legacy. Jameel carried this grace and generosity throughout his long battle with cancer. We honor his contributions and dedication to teaching and learning at Harvard via this speaker series as a small way to remember Jameel's extraordinary warmth of character and pedagogical skills. He motivated and inspired his students and colleagues; through this series, we hope to celebrate and keep alive that legacy by bringing speakers who share new perspectives on mathematics and pedagogy, and motivate us to reflect on our professional roles.
Jameel Al-Aidroos Mathematical Pedagogy Lecture Series
When: October 17, 2022
Where: Hall E, Science Center, 1 Oxford Street, Cambridge, MA, 02138
Register for the In-Person Event.
Register for the Online Event.
Download a detailed PDF schedule of lectures and events.
Schedule
3 p.m. - 3:50 p.m.

Aubrey Clayton | Author of Bernoulli's Fallacy: Statistical Illogic and the Crisis of Modern Science

Thinking Slowly about Probability and Statistics
3:50 p.m. - 4 p.m.

Break
4 p.m. - 4:50 p.m.

Juliana Belding | Associate Professor of the Practice of Mathematics at Boston College

Working with Secondary Math Teachers: What Mathematicians can Offer and Learn
5 p.m. - 6 p.m.

Refreshments in The Austine & Chilton McDonnell Common Room, Science Center 4th floor.
Organizers